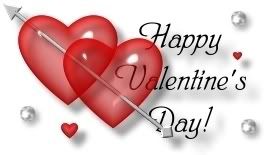 Today Hubs and I went out to lunch to have chinese. Honestly it was one of the best dates we've had in a while. It would've been nice to go to a movie but we just couldn't so chinese was it.
He had crab rangoon's and sweet and sour chicken. I had chicken on a stick, a few different other flavors of chicken, rice, noodles, potato cheesers(little tator tots with cheese inside), biscuit covered in confectioner sugar, and pepsi. It was a lot but we don't do chinese very often.
So how was your Valentine's Day?
© Cooks Cooking since 2005